From October 31st to November 12th, the 26th United Nations Climate Change Conference is taking place in Glasgow. The world will be watching as global leaders discuss the climate change crisis, planning and committing to change. Climate change is a global issue, and, throughout the conference, delegates from all over the world will be speaking hundreds of languages. As schools and classrooms increasingly explore sustainability and the environment in their lessons, COP26 is a prime opportunity to value and encourage pupils' multilingualism – they are, after all, growing up in a global community. Their language skills are an asset to better communication in the world, and good communication is a prerequisite for meaningful change.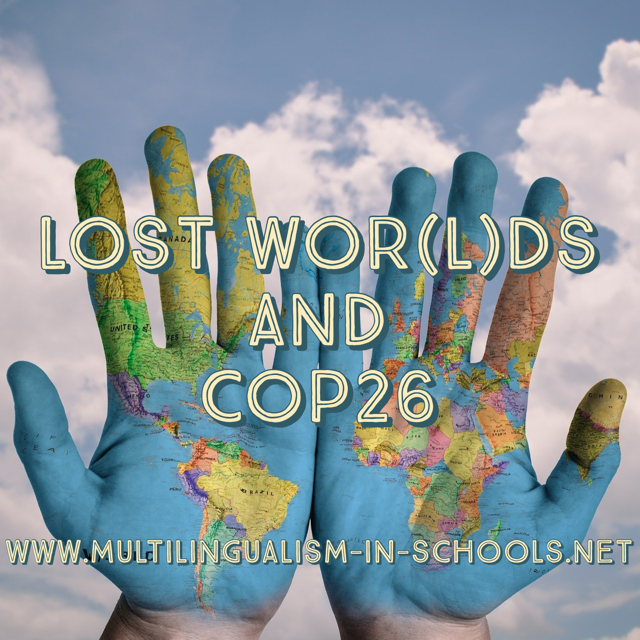 To celebrate COP26, we have put together a "Calendar of Events": for each day of COP26, we are focusing on one specific activity. Some are aimed simply at valuing and appreciating nature, while others are more directly linked to activism and driving change at local level. They cover a range of years and Key Stages, and so not all might be suitable for your specific classroom. Some will be useful as a home learning activity during half term. We suggest that you pick one or two activities from the calendar, and share the results with us. Each day during COP26, we will tweet (@lostwor_l_ds) the respective activity – you can share it either there, or email us at lostworlds@sheffield.ac.uk. We are looking forward to the children's creations!
---
Day 1: October 31st
It is the first day of COP26, but it is also Halloween! Head to our Calligram activity page and use the bat shape to encourage children to build a multilingual shape poem. Encourage them to think about the role of bats in the ecosystem, as pollinators and "environmentally friendly pesticides". For added bonus, discuss the environmental impact of Halloween.
---
Day 2: November 1st
Many of our activities are adaptable for a variety of contexts. Why not use our music/speech song activity to explore words in other languages linked to weather and climate change? How do you say "climate change" in other languages, or, for younger learners, sentences like "protect our world" or "save our planet"? Plan ahead, start practising now, and record your Multilingual Climate Change Rap on 1st November to be part of our online exhibition for the Being Human Festival later in November.
---
Day 3: November 2nd
An easy one today: in how many languages can your class say "Today, the weather is…" (followed by an appropriate weather word)? Let us know on Twitter, and share their amazing language skills! With older classes, consider discussing changes in weather, and the impact of climate change. Our Wor(l)d Weather activity can be used instead for a more international twist.
---
Day 4: November 3rd
Who has seen the wind? Use Christina Rossetti's poem and our activity to explore the wind. For older children, use it as a starting point to discuss the changing weather, including hurricanes, and the devastating impact they have.
---
Day 5: November 4th
Use our 'Posters for Change' as an opportunity to encourage children to explore opportunities for environmental change in their local area. This activity is about producing posters that communicate positive actions people can take to improve the environment – whether it's picking up litter, using less water or not disturbing local birds whilst they're nesting. Children learn to communicate key messages and actions in English, as well as in additional language/s spoken by people living in the area.
---
Day 6: November 5th
Traditionally, bonfires get lit on the 5th November – but this endangers many animals, for example hedgehogs. In how many languages can your class say 'hedgehog' (and isn't 'hedgehog' a funny word, when you think about it???) Why not make a leaf hedgehog and label it in children's home language? You could even combine today's activity with yesterday's, and encourage multilingual 'Posters for Change', encouraging people in the local area to check their bonfire piles for spiky visitors. We have put together some templates on our 'Leafy Hedgehog' activity page to make it as easy as possible. Add the information to your newsletter to raise awareness and promote the value of multilingualism at the same time.
---
Day 7: November 6th
It's the week-end – maybe children have time and energy to explore the outdoors with our Autumn Scavenger Hunt?
---
Day 8: November 7th
Today, simply take a photo of your favourite tree and tell us why it is your favourite. What kind of a tree is it? Does it have a special memory? For a longer, more involved activity, here is a little guest activity from 'Every Tree Tells a Story' in Glasgow.
---
Day 9: November 8th
What can you recycle in your school? Can you help speakers of every language at school, by creating labels in all the languages spoken at school? Check out our 'Recycling' activity to find out more.
---
Day 10: November 9th
Inventors from all over the world are tackling climate change, including children. Check out Xóchitl Guadalupe Cruz López, from Chiapas in Mexico. Aged only 8, she invented a solar-powered, recycled heater for bath water. For tomorrow's activity, we are asking you to become inventors, so start thinking about ideas!
---
Day 11: November 10th
We have worked with the MakerFutures project to create our Rubbish Robots activity, which encourages children to design and build a robot from recycled materials. The activity encourages children to experiment and 'tinker', deciding on a role for their robot, and using various techniques to create their design.
---
Day 12: November 11th
Today's activity is a 'View from my window': can children describe what they or a family member see when they look out of their window? To focus on COP26, what can they see that shows that something needs to be done for the environment (pollution, littering, etc.)? What can they see that shows that something is being done (recycling stations, wind farm, etc.)?
---
Day 13: November 12th
It's the end of COP-26, but not the end of our need to tackle climate change and make the world a better place. Make sure you share your work with us, including all the amazing languages spoken in your class. Tweet us or email us – we would love to include you as one of our feature schools.
---
We hope these activities have inspired you, and we are looking forward to seeing your results – either on the dedicated day, or at any other time!