In today's blog post, Kexin, one of 11 Masters students undertaking research around the Lost Wor(l)ds project, introduces the Language Portrait Activity and explains why she is hoping to work with a primary school that has used the Language Portrait Activity. If you can help Kexin by facilitating her research (which would mean running the activity in your school and facilitating access to online interviews with children, which can take place outside school hours), please get in touch at lostworlds@sheffield.ac.uk.
I am a postgraduate student studying Intercultural Communication and International Development at the University of Sheffield, born in China and currently completing my studies in Sheffield. My family is Chinese, so I can listen, speak, read and write Chinese fluently and I can also understand some Cantonese as I have many Cantonese speaking friends. 
(Photo of Kexin)
I marked my second language (L2) as English because I have understood the power of ESL since I was very young, it is most definitely present in my daily studies. However, there was a bifurcation in my learning of English: until I came to the UK in 2020, I spoke most American English. Not only because my English teacher in China was American, but also because I had lived alone in the US for seven months when I was 17 to experience a different life. Now that my grasp of English has changed, I have finally gotten used to writing customized as customised.
Also, I know a lot about Spanish because it is my university major, my undergraduate degree is in Spanish culture and language and I also spent a year in Spain as an exchange student where I had the opportunity to be a volunteer Chinese teacher, teaching local Hispanic Chinese children some Chinese songs and tongue twisters, which opened the door for me to understand multilingual learning. In Japanese and Korean, I was also able to carry out everyday conversations, buy coffee or underground tickets and so on, as I had travelled to these places many times.
My language portrait attempts to show my past and present experiences and how they are attached to my body: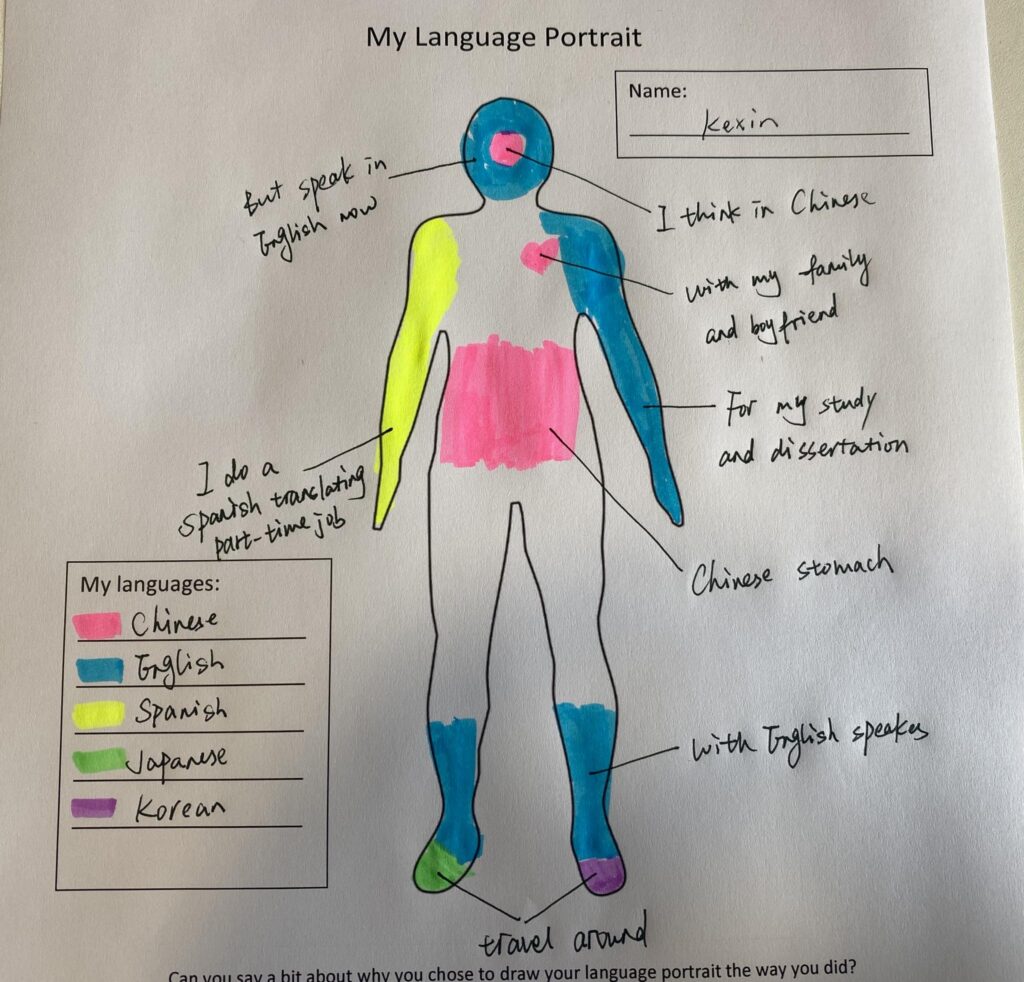 As the picture shows, the language portrait activity allows people to choose a colour for each language that belongs to their identity and to colour their silhouette in any way they want, and it is these different languages that define who I am, and the use of these languages is fluid. For me, it is this painting now, but in ten years it may change again.
At the same time, based on my volunteer experience in Spain, my contact with Hispanic Chinese children made me realise how important it is to define one's own personality in a huge world and society, and that mastering a language means being able to get really close to those who matter, such as talking to grandparents in China. Sadly, however, many children have lost their heritage languages for various reasons and find it pointless to learn them.
I am currently particularly interested in studying multilingualism in the UK and family attitudes to heritage language development, and am writing my postgraduate dissertation. I hope to use the language portraits to understand how children in British schools use heritage languages and English, and how these children use language to form their own unique cultural identity, gain a sense of belonging and distinguish themselves from other groups. I also hope that this project will provide an insight into how children from immigrant families are aware of their linguistic and cultural rights. I would welcome your use of language portraits in the classroom, if possible, and look forward to hearing from you!