On Lost Wor(l)ds, we aim to introduce multilingual people who, through work or a hobby, have a strong connection to nature and the environment. In our first Wor(l)d Views interview, Dani Robertson talks to us about her work as a Dark Sky Officer, and her connection to Wales and Welsh.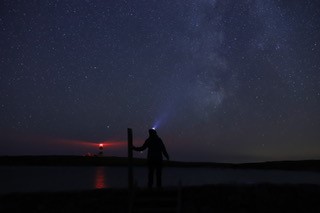 Please tell us a little bit about who you are, where you live, what you do, etc.
I am Dani Robertson and I live in a small coastal village on the wild west coast of Ynys Môn. I work for Parc Cenedlaethol Eryri/Snowdonia National Park and the three Areas of Outstanding National Beauty (Ynys Môn, Pen Llŷn and the Clwydian Range and Dee Valley) as a Dark Sky Officer, working to protect the darkness. A Dark Sky Officer is someone who works to reduce light pollution. Not many people know that light pollution (from street lights and other outdoor lighting) can be bad for human health, and very damaging for our wildlife. Snowdonia National Park is a Dark Sky Reserve, somewhere with very little light pollution! So it's my job to keep it that way. I also get to take people stargazing, and teach them about why darkness is important.
What languages do you speak, and how are these languages part of your life?
I speak Cymraeg and English equally in my day to day life, although Welsh is my second language, as I was born to English parents, I was schooled through the Welsh medium. We were supported to speak Welsh in school, especially primary where all lessons were held in Welsh and we all spoke Welsh in the playground.
I speak Welsh roughly 85% of the time. The Welsh language is an intrinsic part of life in Cymru and is very important to us as a country. Out of respect to my neighbouring Celtic countries I speak bits of Irish and Scottish Gaelic too (very basic pleasantries but it all helps!) and can speak very basic German.
Do you think your language(s) other than English are an important part of your identity?
Yr Hen Iaith Cymraeg is part of the fabric of the landscape and is woven deep into our lives here in Wales. We cannot describe where we live if we anglicise the names. A lot of our place names are incredibly descriptive and tell a story and a hanes (history) about the place. For example, Eryri (Snowdonia) is understood to mean 'the land of the Eagles' with Yr Wyddfa (Snowdon) meaning 'Grave' as it is the grave of the beard stealing giant, Rhita Gawr. There is a saying in Welsh "Cenedl heb iaith, cenedl heb galon" which means 'A nation without a language, is a nation without a heart' which shows you that our language is crucially important to us, to our very core.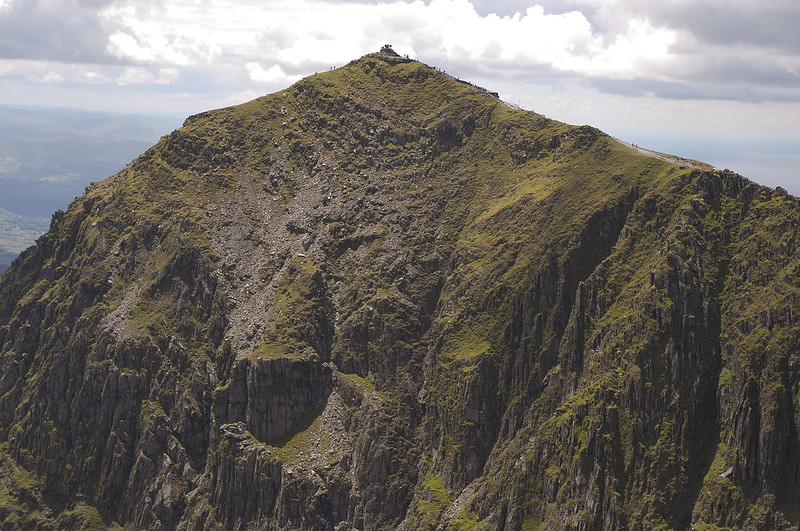 What is your favourite spot/place in nature?
It is very difficult to have just one favourite spot! But if I have to choose I love Uwchmynydd at the end of the Llŷn Peninsula. You're up high looking out over Ynys Enlli and the Celtic Sea. I love to be there to watch the sun go down and the stars come out, as it's one of the least light polluted places in the U.K.
When you think/talk about nature, do your various languages play a role?
I always find that the Welsh names for places are much more descriptive and give me little clues as to what I might find there, for example 'Porth Trecastell', just a little way away from me suggests that at some time this was a well defended port, with Trecastell meaning an ancient castle of fort. It is of course linked with tales of the Arthurian legend, and dates from the Neolithic period (around 5 thousand years old). As part of my job, I like to tell people the stories behind the constellations, the stories that the stars can tell when we join them together, like a big dot to dot! Not many people know that in Wales we have our own names and stories for the constellations, with lots of them linked to how life was for our ancestors a long time ago.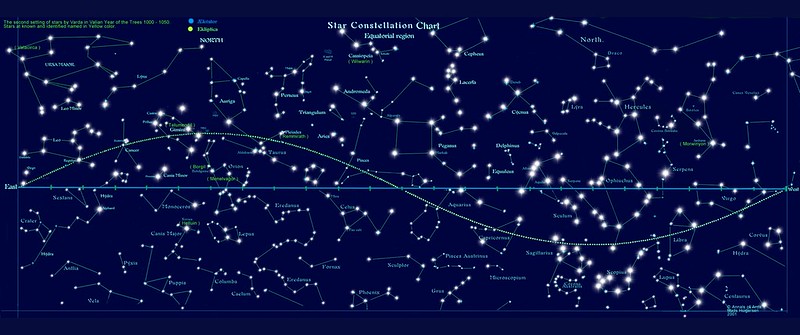 Pretty much all languages have little quirks, names for animals or plants that might seem unusual to non-speakers of the language. Can you think of some examples in Welsh, and explain them to us?
Some of my favourite words are:
'Dwrgi' is 'otter', it literally means 'water dog' which is what they look like if you see them swimming!
'Clychau'r Gog' means 'bluebells'. Translated literally it means 'cuckoo bells', as when bluebells are out, we should be able to hear the cuckoo calling.
'Sgrech y Coed' is 'jay', a colourful bird that makes a racket, so fittingly its name means 'tree screecher'
'Bwa'r Gwynt' is one of the names for the 'Milky Way'. It means 'Arc of the Wind' and you can see why when you're stood out under a clear night sky how our ancestors may have believed that it was the wind making that beautiful pathway up in the stars.
Want to do more?
Cardiff University's "The Universe in the Classroom" project has produced a printable planisphere to explore the night sky, which is available here. Look out for future Lost Wor(l)ds activities focusing on the night sky.