'Rivers of Reading' aims to explore children's reading of books, magazines and words in whatever form they are produced and connect the places and people they learn and read with. The different places in which children read can include home, school, a place of worship or even round at a friend's or neighbour's house! The act of reading is transformed into a river metaphor to reflect children's reading journeys, enabling them to capture and interweave not only 'where' they read, but also the different languages they read in, as well as what they do and don't like to read.
Gladstone Primary School is a big school based in Peterborough – key stage 1 is two-form and key stage 2 is three-form entry. The vast majority of pupils, over 90%, speak at least one other language in addition to English – what a fantastic place to pilot 'Rivers of Reading'. Gladstone Primary adopted a whole school approach that meant that every class across the school participated in the activity, which was incorporated into the reading comprehension component of the curriculum. All of the 'Lost Wor(l)ds' activities are designed to support schools to deliver the primary curriculum and we we're delighted to see the connection made by staff at the school.
Many pupils at Gladstone began their 'River' with the first books they had read in school and had to be encouraged to also reflect on reading outside of school and in other languages. Zainab's river in the image below clearly demonstrates how she embraced the challenge and built boats that reflected her reading from age 1 upwards!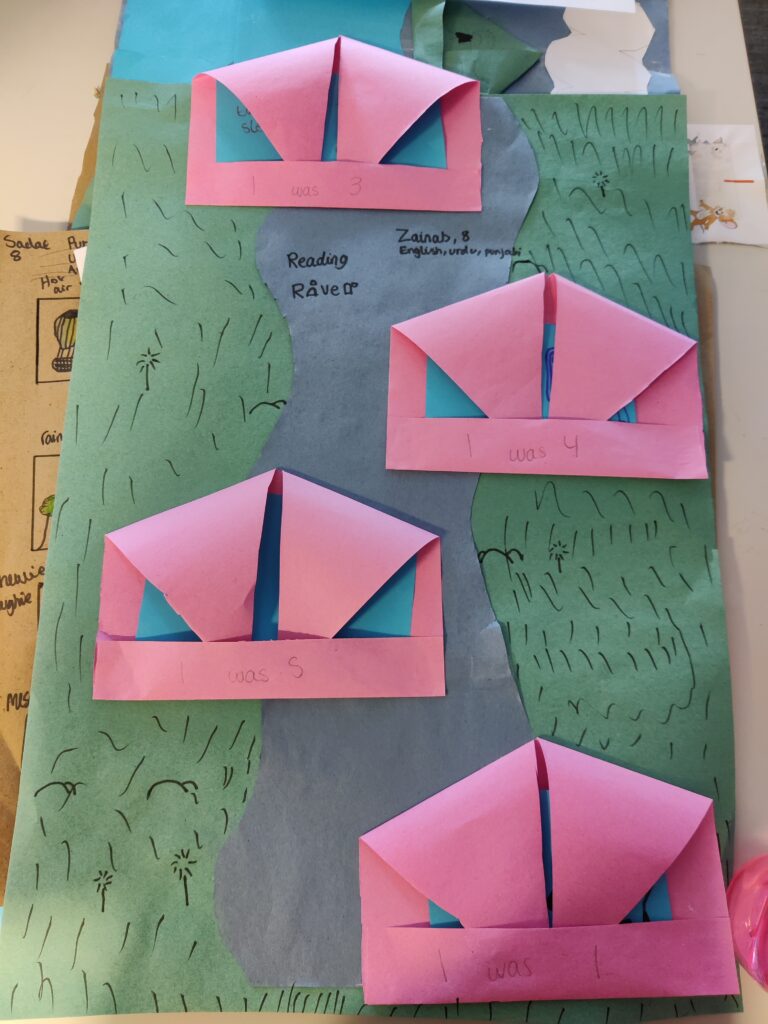 A Year 5 teacher reported that they now know exactly what the children in his class don't want to read, which is fantastic for engaging and consulting them on future books to focus on in class. Children who were typically quieter or harder to engage during class discussions, shared insights into their home life and some really interesting stories: "It was a real eye opener to hear from children who had never before spoken about their home lives, but by delving into their reading lives, we were able to bring together languages spoken at home and school" (Year 6 teacher).
Sadaf's 'River' (below) provides an expansive understanding of their reading, undertaken in English, Urdu and Arabic, ranging from messages and information accessed via a mobile phone to learning the Qur'an.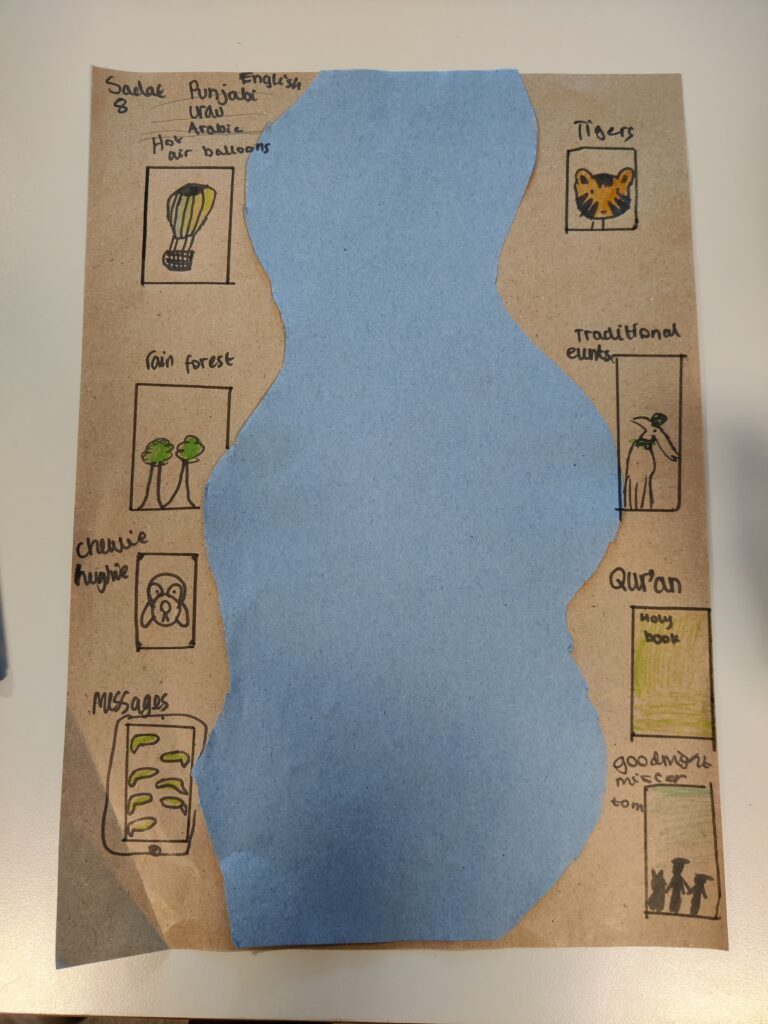 Children often read and learn in their home language/s in the context of their religious education, which can be centred on the Qur'an, Torah, Bible or any other religious text, often delivered in a place of worship. This activity was an excellent opportunity to understand where and how additional learning and reading takes place.
The teachers also listened to children tell similar stories connected by the same moral, such as 'Stranger Danger', but in different ways and in different languages. This provided an important opportunity for learning across different languages, identifying similarities and afforded children the opportunity to make new connections, not only between the languages spoken, but with each other.
Overall the "Rivers of Reading was a really enriching activity, which Gladstone Primary School would really like to repeat in the future. The main change they would make would be (Covid-19 permitting) to invite parents and carers into school to support their child to develop their 'River of Reading', maximising the opportunity to create better connections with children's' lives beyond the school gates.
Thank you to everyone at Gladstone Primary School, particularly Aleena, Sadaf and Zainab for sharing their work and Ms Nargis for leading on the 'Rivers of Reading' activity.