On Lost Wor(l)ds, we are inviting anybody (but especially children) to review books that connect to nature (see the Book Review Activity for details). Every now and then, we will also share books that cross our path, such as this inaugural book review, The Moose of Ewenki, written by Gerelchimeg Blackcrane, illustrated by Jiu Er, and translated by Helen Mixter.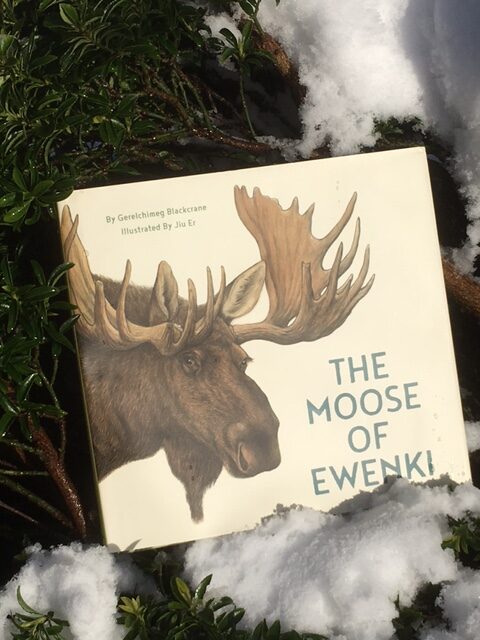 The book is set among the Ewenki people, one of China's 56 recognised ethnic minorities, most of whom live in Inner Mongolia, an autonomous region in the People's Republic of China. With a population of about 30,000, the Ewenki people have lived close to nature, hunting and raising reindeer, for many generations.
In the book, Gree Shek, a hunter, accidentally adopts a young moose, or maybe it could be said that the moose adopts him, following him home and proceeding to make himself comfortable, eating the food, and taking his place among the reindeer, despite his obvious differences. For years, the moose – named Xiao Han (Little Moose) when he was little, and holding on to the name as he gets bigger and bigger – follows Gree Shek wherever he goes, a friend, a pet, a companion. As Xiao Han grows older, so does Gree Shek, until an accident forces him to move into the village. Xiao Han attempts to follow him as he usually does, but unsurprisingly does not do well in civilisation, so Gree Shek moves back to the reindeer camp with him, trying to release Xiao Han back into the wild.
This beautiful book is a story about connections and companionship, told in the most unsentimental way, and all the more moving for it. It is a story that does not shy away from the harsh realities of life – the story begins with Gree Shek shooting a moose without realising she has had a baby out-of-season, and Gree Shek himself dies in the book, and is not found until some time later. With his hunting dog guarding the grave and Xiao Han guarding the forest, we become aware of the bonds formed between Gree Shek and the animals, a bond also illustrated by him and Xiao Han remaining together, even when the environment is unsuitable for one of the pair. To me (researching identity and belonging, as I do), it was also a story about belonging – from Xiao Han finding his place among the reindeer, but not fitting in with the dogs in the village. Joining the two together, this is a beautiful book that illustrates how our connections shape our sense of belonging, overcoming difficulties as we find our place in the world – for Xiao Han, ultimately, in the forest, guarding Gree Shek's memory.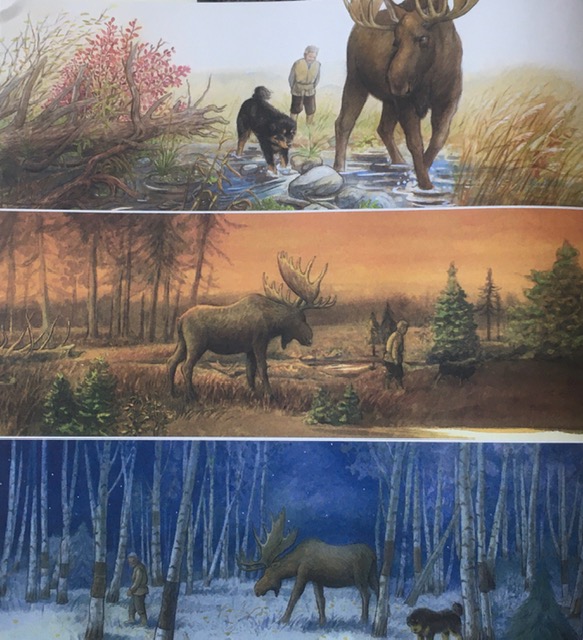 The book is beautifully written and illustrated, with Jiu Er's drawings evoking deep forests in wonderful detail. The translation has the feel of a folk tale, with Helen Mixter finding just the right words to bring the complexities of the story to a young audience.
This book offers a great opportunity to exploring the idea of multiculturalism-within-countries, with different populations and ethnic minorities holding on to language and customs, often with difficulties. Using their language skills, children could discuss what "Little Moose" would be called in their home language, and/or expand into other vocabulary drawn from the book.
The Moose of Ewenki. Author: Gerelchimeg Blackcrane, Illustrator: Jiu Er. Translator: Helen Mixter. (Greystone Kids 2019). ISBN 9781771645386.